We all love the denim skirt. It's just so comfy, casual, and easy to wear. We also all wish they were easier to find. There never seems to be one around when you're shopping for a new one. Well, don't you worry. I've spent hours (and hours, and then some more hours) scouring the web, and I'm happy to bring you these!
First, I want to say that I'm a little jealous of you full-figured gals. I went to Roaman's website, clicked on skirts, and found no fewer than seven denim skirts right there for the taking! Not only that, but right now, Roaman's is having a BOGO sale!
Roaman's sells clothing from size 12 to 44, so if that's you, hurry and follow this link to see your choices of denim skirts, plus some other really pretty skirts too!
Here are just a few examples of Roaman's cute denim skirts that I can't wear:
Next, I found this floral embroidered skirt from EastEssence for $24.99. They have several other styles, as well.
Old Pueblo Trading Company has several options as well. I like this one for only $29.99. It's available in 6 colors. Click on the skirt to find out more about it.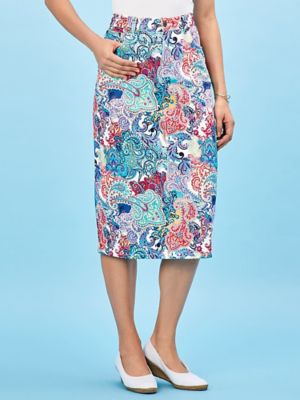 Here's a cute one, also from Old Pueblo Trading Company. It's available in Misses, Petites, and Women's sizes for $39.99-45.99.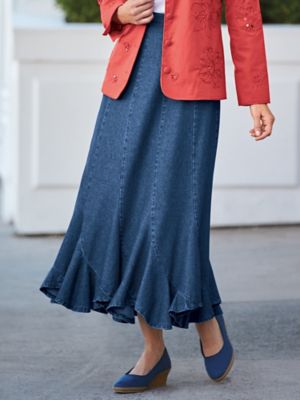 Here's another one from Old Pueblo. This is available in either light or dark denim.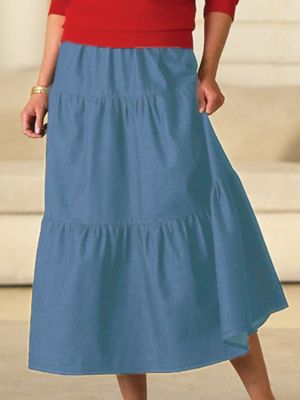 Kohl's has several jeans skirts from which to choose. I like the white one, which is 23 1/2 inches long.
Here's one I think I'll have to buy. It's from Chadwicks and features a v-shaped yoke in front and a back zipper. It comes in dark or light denim. I like dark denim; it'll become light denim eventually anyway. Click here to see it at Chadwicks.
Also at Chadwicks, I found this sandblasted denim skirt. It's soft and drapey and oh so comfy!
I also found quite a few decent length Denim Skirts at Amazon
, so be sure to check this link while you're shopping. Scroll down to see some of the longer skirts.
Do you see anything you like? Please let me know in the comments!
FTC Disclosure Statement: This post contains affiliate links and I will be compensated if you make a purchase after clicking on my links. This will not increase the price you pay.